In our clinic we see that hair removal has become as popular with men as it is with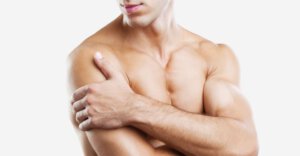 women. Whether there is a physical or emotional reason to have parts of the body lasered is not so important. The important thing is that hair removal gives the result one has in mind. More than 35% of our clients is male. As a male customer at our clinic you can decide to get treated by a male or female practitioner. We offer laser hair removal for all body parts on men.
You don't have to be a bodybuilder to remove your hair. It is a free choice for every man to choose for hair removal of certain body parts. Usually it is also a matter of more effectiveness. For example, many athletes have been depilating themselves for much longer. It can also be a matter of hygiene
We are happy to take your possible working hours into account, an appointment for a free intake or treatment can even be made in the evenings and weekends.
Safe & effective
Experienced skin therapists
High-quality lasers
Open 7 days a week
Always the same practitioner